Construction activities:
Hole fillings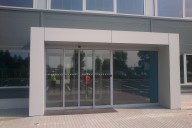 Windows and Doors
Today modern architecture requires increased use of modern materials, which undoubtedly includes plastic, aluminum and glass. Our company offers a wide range of products from plastic and aluminum profiles, glass and polycarbonate materials blending in itself excellent static and insulating properties.
Aluminium facade systems provide a wide range of application possibilities, which can be used for system construction. In connection with mirrored or tinted functional glass opens up unprecedented possibilities for the design of various shapes in limited dimensions.
Aluminium and vinyl windows and doors meet the highest standards in the area protection against noise and heat, the technical functionality and extreme long-term strain.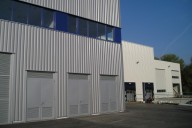 Gate technology
ELORA GROUP offers a wide range of gate, door and fire door systems for industrial use. Among the offered products included are sectional gates, rolling doors, steel doors with fire protection features in all sizes and colours.
All products are made from high quality materials and are provided with high quality powder paints. Options include electric drives and forgings tailored to the requirements of our customers.