Skylights and RWA systems:
RWA systems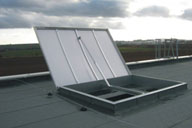 Facilities for natural drainage of smoke and heat
Flaps are used for ventilation of the building from smoke and heat when a fire breaks out, when the need protect human lives and property. Another feature of the flap's is to light building with natural light.
RWA flaps are fitted to the roof cladding like skylight systems.
Construction of flaps is of aluminum profiles (system Elora)
Filled with polycarbonate
Opening by pneumatic cylinders (pistons) using compressed CO2 distribution Cu (copper pipes)
Operating EPS to deep impulse of smoke or heat sensors
The possibility of natural ventilation by windows that opens with help of electric drives